Some more examples from my collection of photo Christmas cards.
 Click here to see them all.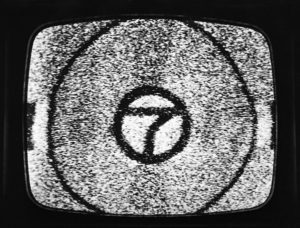 This will be the first of many galleries here featuring photos of TV screens. Back in 2008 or 2009 at a flea market outside of Chicago I picked up a binder containing hundreds of negatives most of which were shots of tv screens showing TV station call signs from the 1960s. I didn't quite know what to make of it but with a little research I found out that were most likely taken by a DXer- someone with a fancy antenna rig that they use to try to pull in distant television signals. They then would photograph the TV station logo to prove that they'd pulled in the signal. About 5 years later I was at another flea market almost 400 miles away in Minnesota and found a cigar box full of prints which turned out to be from the estate of the same guy. The prints included many from Europe that had been sent to him by other DXers. Also included were photos of antenna rigs as well as assorted DX-related ephemera. I've put together a little gallery of some of the highlights- it's a treasure trove of great mid-century graphic design. Click here to see the gallery
An old Square America favorite- Scenes from an IBM promotional slide show. Click here to see the series.